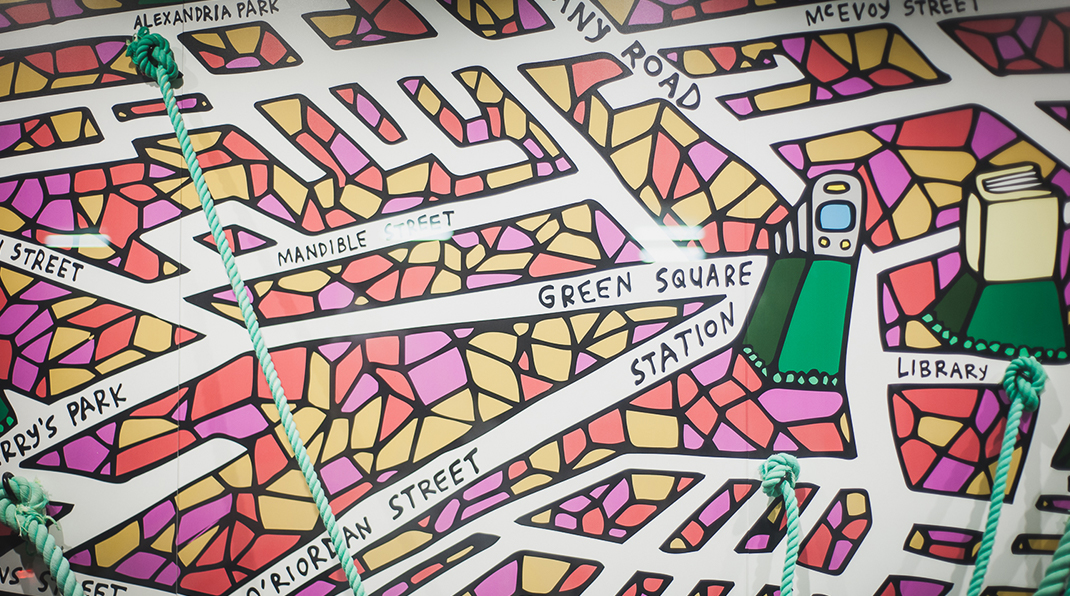 ---
Artist: Jess Cook, Meeks Tierney and Jeff McCann
Curator: 107 Projects
Installed: May 2018 as part of the Creative Window Display Project
---
ARTWORK DESCRIPTION:
The Green Thread is a series of playful, dynamic and colourful activations that explore the connectivity of a neighbourhood and the adventure of discovery on the journey home.
Taking inspirations from 'The Red Thread' stories found within Greek mythology, Swedish folklore and Chinese Philosophy, the thread is what connects us and helps us find our way home. We have switched to green in celebration of the communities of Green square. Each installation will have its own focus inspired by poems created by students from the poetic workshops held at Green Square School and Alexandria Park Community School as part of the Mirvac and Landcom Education Program. These workshops are led by Red Room Poetry.
---
ACTIVATION 1: Mapping moments
Mapping Moments explores the connectivity of Green Square through a vibrant and abstract map that highlights key places of interest in the area. This map forms the backdrop to 5 installations inspired by the neighbourhood.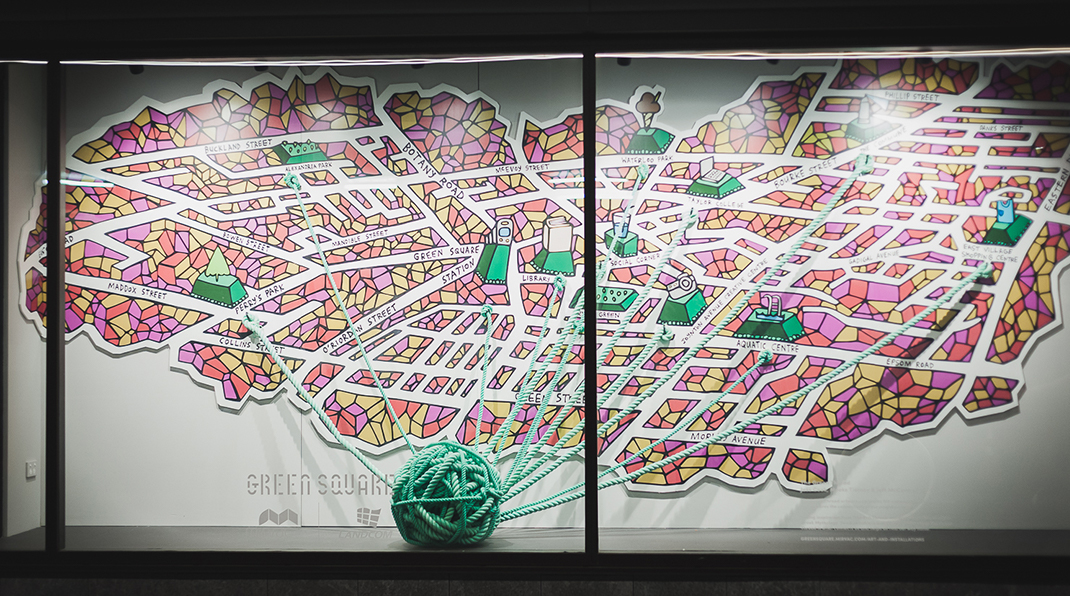 ---
ACTIVATION 2: We are all a wave
We are a community forever changing and coming together like a wave.
Shifting… meeting the old and new in one shared space. A much needed component for the sustainability of a community. It's about being open-minded and welcoming. Making your area what you want it to be.
This artwork features a wave machine moving continuously back and forth. The Green Thread features once again in this artwork and acts as an anchor in the waves. It's a symbol of the strength in a connected community.
The work was inspired by Game Time, a poem by Green Square School student, Tim Tam.

---
ACTIVATION 3: My hearts a flutter
Falling in love with your neighbourhood is one thing .. but nothing compares to finding love in your neighbourhood. The joy of being connected is to be a part of a team… to not be alone. With love we come together and can build experiences of life together. Beyond just romantic love there are so many ways we can feel connected. This work celebrates the power of collaboration and playfulness of finding love.
This artwork features a waterfall of fluttering green hearts on up-cycled timber shapes. They flicker with the excitement of new experiences and love. The work was inspired by Emerald Like a Jewel in the Star, a poem by a local student Tim Tam.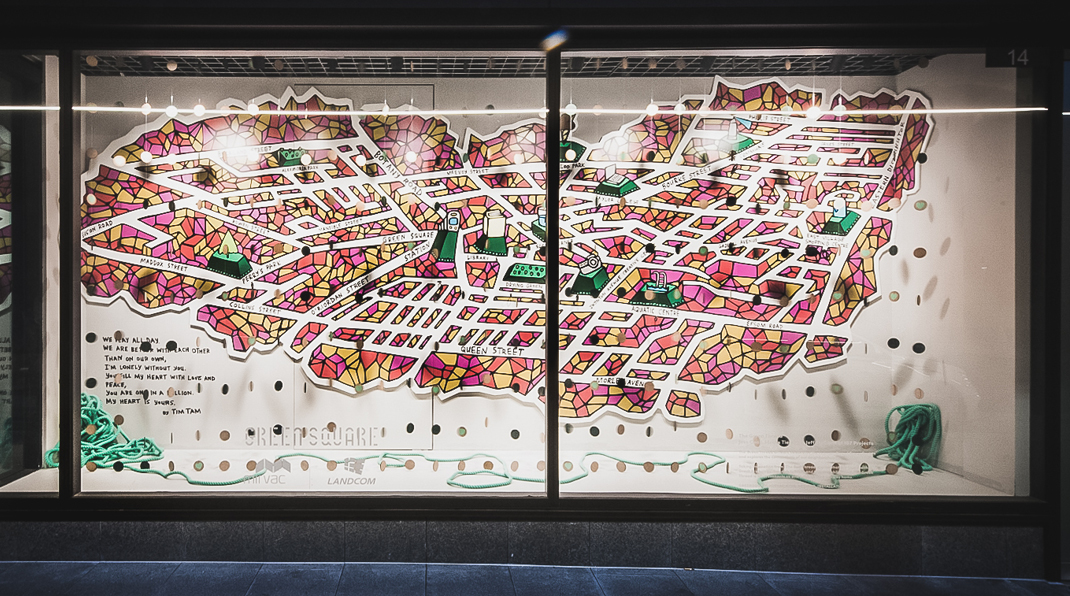 ---
ARTIST:
Jeff McCann is an artist, educator, artistic director and foremost a story-teller, working between the visual and performing arts through a wide range of mediums including sculpture, fashion, installation, public art and performance.
Inspired heavily by avant-garde fashion, surface design and music. Jeff takes what is considered rubbish and transforms it into new work that ranges from theatrical fashion, accessories, functional products, art and sculpture.
He is inspired by ceremony, rituals, colour and play; bringing back a childlike sense of wonder to the viewer. Jeff works with musicians, fashion photographers, designers, directors and other artists to create unique, magical and ethereal environments and boutique looks.
Jeff McCann is a 107 resident of Joynton Ave Creative Centre.